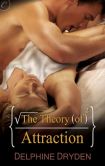 The Theory of Attraction, a Science of Temptation novella by Delphine Dryden, is free in the Kindle store and from Barnes & Noble, Kobo and Sony, courtesy of publisher Carina Press. Romantic Times: Seal of Excellence Award winner & Erotica "Top Pick" for July 2012!
At Audible, the companion audiobook is $2.99.
Book Description
Camilla can set her watch by her hunky rocket-scientist neighbor who jogs past her window each day. She relishes each glimpse of his shirtless abs, and is dying to see more. But it's hard to connect with a man who doesn't seem to know she exists…

Ivan feels at home in the lab, not in social situations. When he finally approaches his attractive neighbor, it's not for a date—he wants tutoring in how to behave at an important fundraiser. Ivan doesn't expect the chemistry between them to be quite so explosive, and is surprised when Cami actually accepts his proposal to embark on a series of "lessons."

Cami soon discovers Ivan's schedule isn't the only thing he likes to be strict about—he needs to be charge in the bedroom as well. She's shocked at how much she comes to enjoy her submissive side, but wonders if a real relationship is in the equation…
Get the free ebook from Barnes & Noble.
Get the free ebook from Kobo.
Get the free ebook from Sony ReaderStore
.
Free on Kindle; links on Today's Free Kindle Books.
Send to Kindle